Looking for a girl
A day - a cartoon
Shameless self promo
Generate random values
Goodbye GMail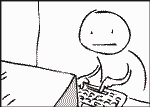 ---
This is the personal web site of Kesavan Muthuvel
I've had a long dream to put all my related information in place, where bots and friends find some bit info on me, but It won't happen for the past. Now time allows me to happen my dream.
Fav Quotes
Life was much simpler when APPLE & BLACKBERRY were just fruits.
Aerodynamically,the bumble bee shouldn't be able to fly, but the bumblebee doesn't know it so it goes on flying anyway. - ♻ Mary Kay Ash
All time fav
I never think of the future - it comes soon enough. - ♻ Albert Einstein
'Try not to become a man of success but rather to become a man of value.' - ♻ Albert Einstein
Daily menu
I prefer VEG , but I'm not 100% .My selfish genes need some proteins somehow and take it by scarificing some aquatic lives.
Net and social
I'm sorry , if you don't get response from my side via Facebook and/or someother social networks , as I'm some how lazy and don't want to get into that virtual world.I still belive in real world system and love the way it designed.
But you may find G+ and Y!Pulse updates myside , because they're enabled for me from their side, and I want to be part of them.
I even annoyed with my N900 (retired) powered by Mameo GNU/Linux & LG E400 (retired) powered by CM9 Android (GNU?/Linux) ICS 4.0.4 sometimes , because either it's battery run out so earlier before I call somebody or kernel might under deadlock with threads & process .The same applies to my another device Nikon S3000 Coolpix Nikon DSLR 3100 Canon Rebel EOS T5i aka D700.
Now playing with my Nexus 4 (LG E960) , powered by CM12.XX plus 4 more operating systems including FirefoxOS , Ubuntu Mobile.

But Here are some of my Social link(s):
மதுரை•Houston, TX :)
RT @FSFTamilnadu: Is @SetuAarogya transparent enough? Short answer: No. 1. Outdated Android app code base. 2. No practice of reproducible… | Tue Nov 24 19:39:33 2020 CST
RT @NASAUniverse: The nitrogen in your DNA was once inside a small star. 🧬 That star shed its outer layers at the end of its life, forming… | Tue Nov 24 15:25:36 2020 CST
@rajkumarsakthi @nyuniversity @creativecommons Google it ... "kesavan muthuvel" site:https://t.co/lIoqb3vEeT | Tue Nov 24 13:45:46 2020 CST
It's glad to know people @nyuniversity computer dept. 🖥️ using my @creativecommons work explaining the architecture… https://t.co/9dG5BHOH4y | Tue Nov 24 1:15:26 2020 CST
Goodbye @webfaction.Gonna miss you.Thanks for your service & great support.Hello @opalstack! You're the alternative… https://t.co/F6Ikp62rqf | Tue Nov 24 0:29:42 2020 CST
---
Misc
Wanna see my resume? here it is.
---
---