Kesavan Muthuvel's Personal Home Page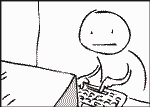 ---
My relation with Google
I wonder How Google works from the my early days to web and still it continues.I enjoy almost all Google products and service from the beta stage to graduate stage. But now-a-days, I feel myself , it's time to say Good-bye to Google's mail service Gmail.This page shows you updates related to it.

Good-Bye Gmail:
Why I decide to leave Google's Gmail?
Finally I decide to stop my support to Google's search based web mail service , the Gmail. After working with Gmail for nearly eight years , it's really painful decision for me to leave the Gmail , but I've no choice. Following are the top reasons for the question, why such hard decision.
I want Google no more to read my mails and secrets :)

I know the automated bots and it's algorithm reads each conversation as per their business to increase their revenue , but it annoys me somewhat.

By reading my conversations and communications , Google try to analyze my behavior and overall nature of mine and my circles and finally categorize me as per their schema

I don't want to add dependency with Google , initiating from the Mail service

Google tries track me everywhere, getting my privacy means none.
Benefits I'm going to gain
I can redefine myself the meaning of electronic mail (e-mail) service.

Start my own mail service in my own hosting server

Give a try to open source collaboration suite service and servers(Not limited to Cidatel,Zimbra)
What will get affected ?
My relation with Google's GMail service alone will be comes to end , ie all mails send to k7.india@gmail.com will redirected to /dev/null

At the end , the inbox and all other contents are trashed out.

No one send email from that service.

In the initial phase , an automated mail stating my support stopped to Gmail triggered to each received mail and in later final stage , that acknowledgment will get end at certain point.
What will not impacted ?
My relation with all other Google's services listed at www.google.com/intl/services will not get impacted. They all still behave how they appear as of today.

Still users/friends can communicate with me by using new mail id, ie, hi@kesavan.info

Since I will available on Google Plus (still), everyone can catch me over IM Chat, VoIP ie, Voice calling and Video Chatting and Group Hang-outs

Since I'm not going to stop my support to Google , my Google Account still continue alive.

This means , indirectly the Gmail service always remains , but no one listens

At certain point the inbox might got broken
What you need to-do?
Nothing. This transition is from my side and you no need to worry on this.

Update your contact book / address book with my new mail id

Don't worry. All your mail send to Gmail will be automatically forwarded to my new service and I'm happy to listen to each of them.

If you still receive mail from the Gmail even after the transition, please don't respond to it.

Understand clearly that is not send by me personally.

I'll be happy , if you forward those mails with full headers
Proposed time paln
June 1st,2012 – Start of Transition

June 30th, 2012 – Finalizing alternative for GMail service

July 1st, 2012 – Isolate GMail from other Google services, ie Goolge Tasks and Google Calendar

July 15th , 2012 – Migrate the archives from GMail to personal service

August 15th, 2012 – Notifying the world , the new mail address, hi@kesavan.info

September 30th, 2012 – Forward all incoming mails to new service

October 31, 2012 – Ensure all contacts updated inside and outside.

November 1st, 2012 – Automated mail triggered for each incoming mail regarding transition

December 1st,2012 – GMail set to Read-Only status.

December 20th,2012 – No more outgoing mails from GMail service

December 25th , 2012 – Support to Gmail service fully abandoned

January 1st, 2013 – No one listens to Gmail service

January 31st,2013 – End of Transition
If you've any questions, over this transition , drop me a mail to hi@kesavan.info
May 25th, 2012
Chennai