Looking for a girl
A day - a cartoon
Shameless self promo
Generate random values
Goodbye GMail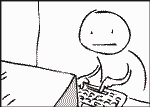 ---
Scripts I like
Here are some scripts which are useful for preparations in PHP / MySQL .
Please run these
.Don't just read this. Thanks to highlight_file() of PHP.
PHP Info | echo Vs print | PHP MCRYPT | PHP FUNCTION(?) | PHP __wakeup() | PHP Date Calc | PHP Multi file attach MAIL | MySQL Date Calc | PHP OOPs | jQuery
Mostly I prefer server validation over Client side , but some of my followers wish to understand what is jQuery and why we need it.Here is some just an intro to jQuery world. I use some validation scripts and datatable script to showcase the power of jQuery.